Chaplaincy
Both the Primary and Secondary Chaplaincies have a base, a place where the work of the chaplaincy team takes place.
Primary Chaplaincy Room

The primary chaplaincy room is a large busy, creative and prayerful space where students come together in prayer and celebration and preparation for for the chaplaincy events.
The Secondary Chaplaincy Office

The office offers a space for small group and one to one pastoral support for staff and students. It is a hive of industry and preparation for all the many events, liturgies and residentials. Fran can often be found in here!
The Chapel
Our Chapel is situated in the centre of the Secondary site, a constant visual reminder to us that Christ is at the centre of our school community and activity.
Our unusual shaped circular chapel seats around ninety people and is a place of peace and refuge from our busy life for the whole community. The Blessed Sacrament is reserved in our Chapel and its doors are open before school, break time and lunchtime for prayer.
The Chapel space is light and simple in design with a beautiful stain glass window depicting the luminous mysteries.
Both primary and secondary students receive Chapel induction at the start of their time in the school and all come to know and love this sacred place.
Our Chaplaincy Team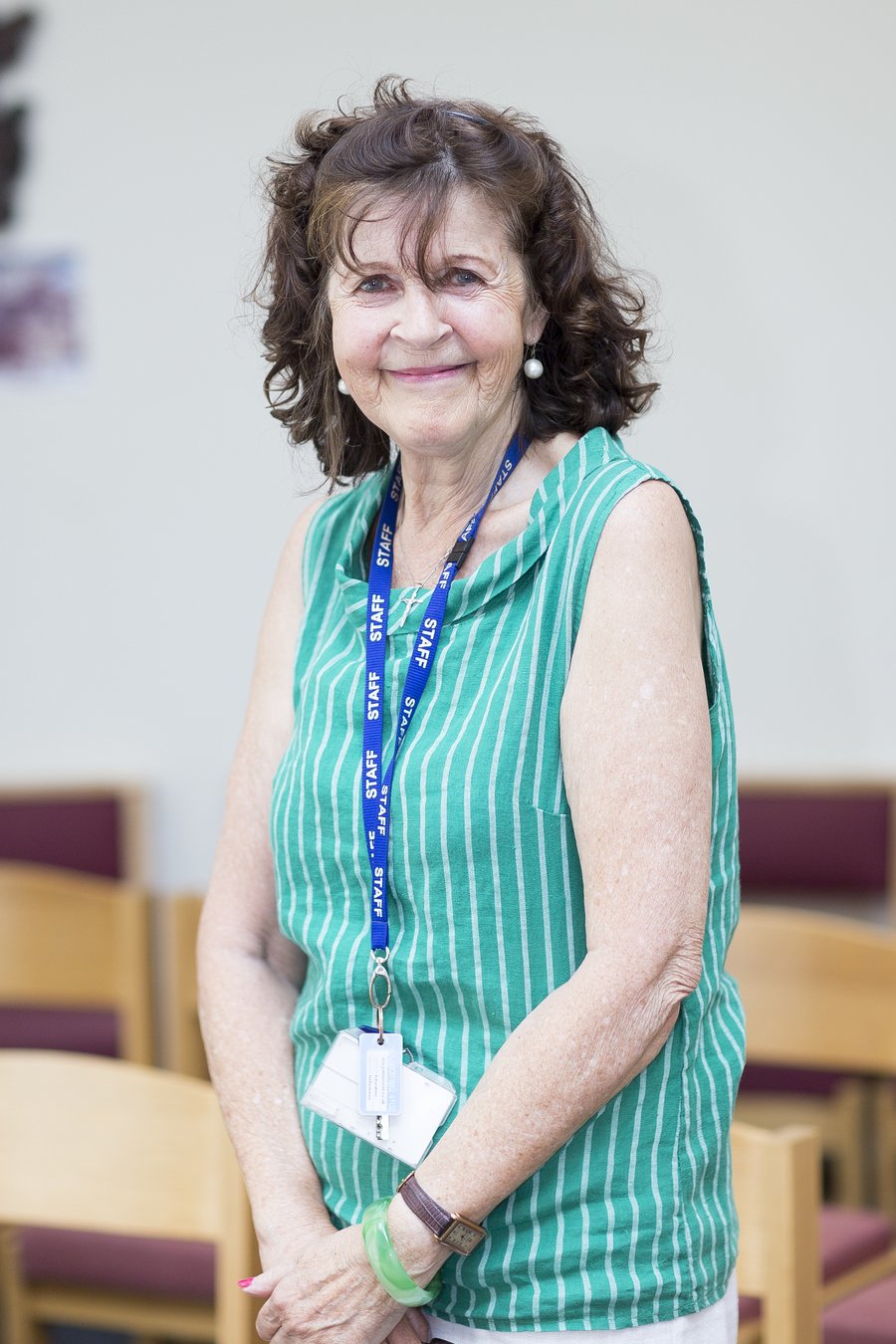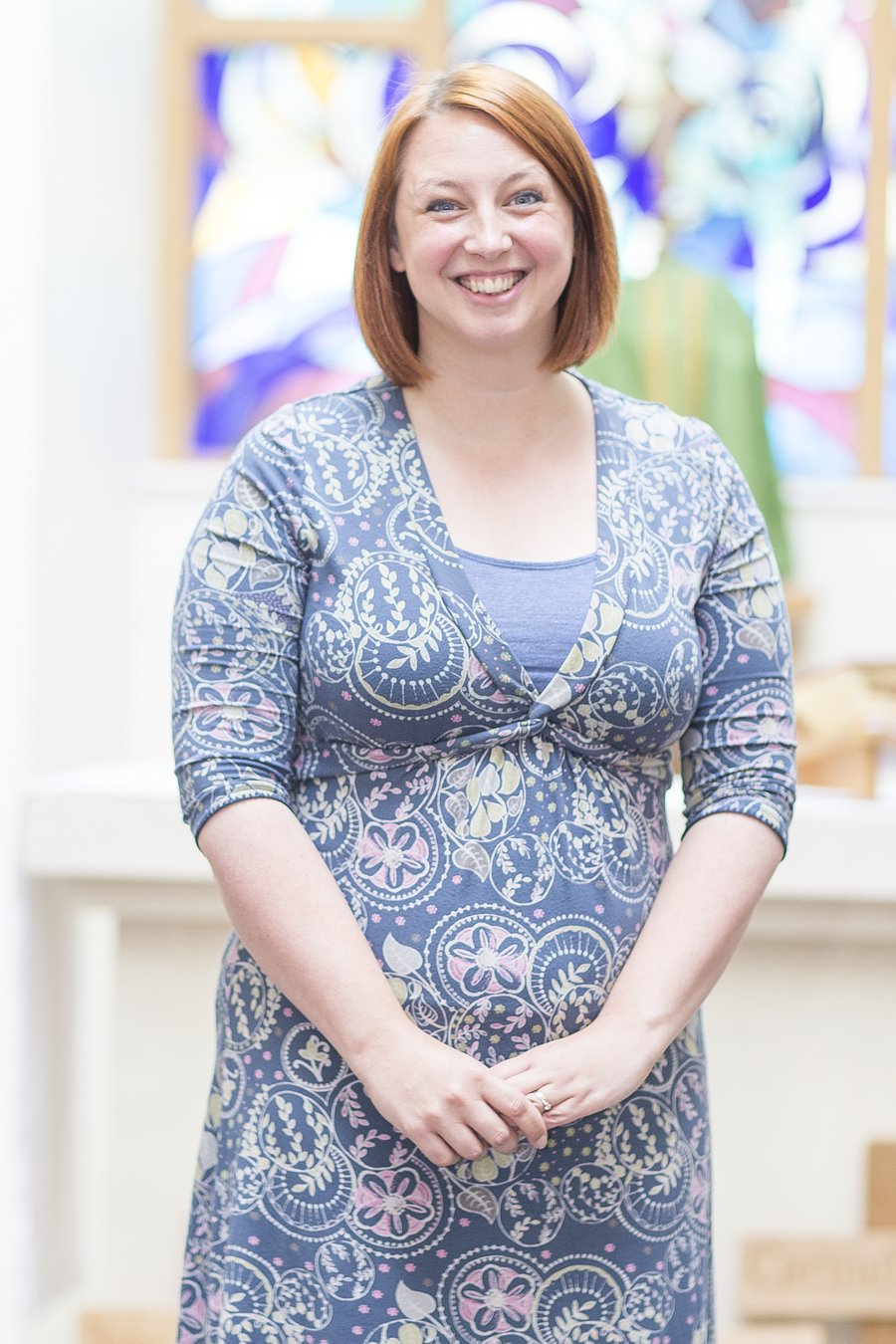 Catherine Enticknap - Lay Chaplain (Primary focus)
Catherine was the sixth of seven children. After leaving India the family settled in Bournemouth and she was brought up in this large catholic family where there was always singing around the piano or in the church or school choir. When she was a young girl she wanted to be an opera singer and actress and when finishing her sixth form won a place at a prestigious drama school in London. After completing her three years and gaining her teaching qualification, she was offered a job at a Catholic school to complete her NQT year. After successfully achieving this, Catherine left her much loved teaching career to pursue her dream of creative work, firstly at the Catholic Radio and Television Centre, then going on to work at the BBC Television Centre as a trainee Director.
Marriage and moving to Derbyshire re-kindled her love of teaching and she continued to flourish in the primary school. Staying home with her three children gave time to work in all areas of parish life including; youth work in the diocese, voluntary teaching/governance work in the town, Lighthouse and ecumenical initiatives and running a drama school for 25 years.
She is also founder and Artistic Director of Inter Church Productions Ltd., an ecumenical theatre company in Thame that has been running for 20 years; inviting large casts and putting on musicals in the local community for sell out weekly runs. A shadow founder governor of St Gregory's, advanced skills teacher and Primary Leadership finally brought her to Chaplaincy, after completing her MA in Pastoral Theology. Catherine's greatest love is for children, people and artistic and creative interaction with all.
Fran Walsh - Chaplaincy Youth Worker (Secondary focus)
Fran was brought up in a Catholic Family in Northampton. When she was a young girl she wanted to be an actress and loved drama at school. From her gap year at St Cassians Centre, Kintbury she discovered her love of youth work and in 2002 she began her BA Hons Degree in Youth and Community Work and applied Theology at Oxford Brookes University.
Whilst studying, she worked for an ecumenical youth work organisation called Oxford Youth Works (OYW) where she did youth work in schools and local estates in the evenings. When she graduated she carried on this work and started as a part time tutor co-ordinating a degree stream for those wanting to do youth work in schools.
Shortly after marrying her Husband Craig, Fran was made redundant from OYW and took up employment with St Gregory's. In 2016 She completed her MA in School Chaplaincy and has been using her knowledge and skills to help young people explore and grow in faith.
Fran loves cooking and coastal walks and she is heavily involved in her Parish Church of St Anthony's and enjoys taking young people on retreats especially to Taize in France.
"There is very good support for initiatives to enhance students' spiritual development through the work of the Chaplains."

Section 48 Report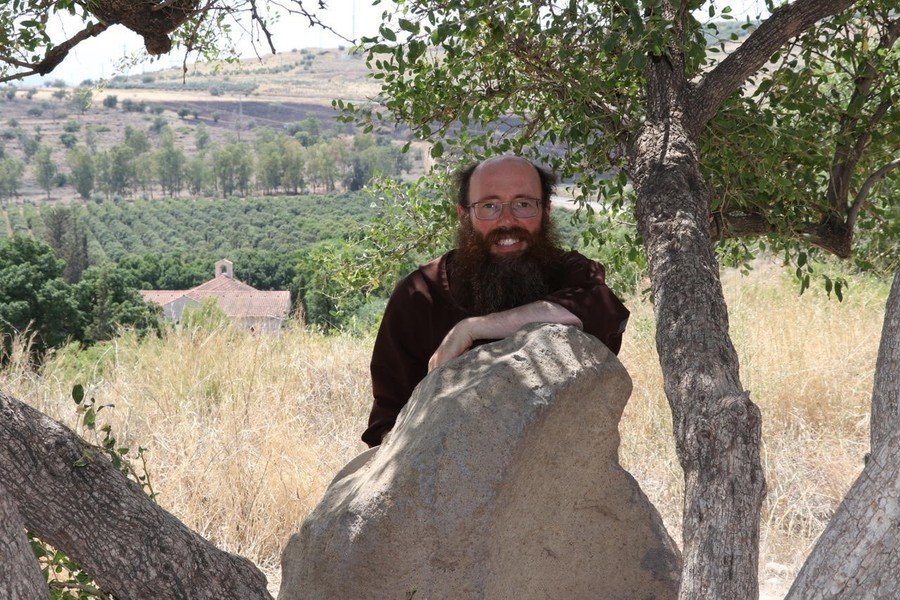 Brother Paul Coleman – Primary Priest Chaplain
The eldest of five children, Paul was born and brought up in a Christian household in Coventry. When he was a boy he wanted to be an astronaut and then in his teenage years wanted to be a scientist. But he was also a fan of St Francis, and when studying chemistry at Oxford University he realized God was calling him to be a Franciscan friar.
Having joined the Capuchin Franciscans in 1999, Br Paul completed his training at Greyfriars here in Oxford and was ordained a priest in 2006. Since then he has lived in Toronto, Preston, London, and Jerusalem, and has experience of prison ministry, working with the homeless, school chaplaincy, university chaplaincy, and youth work, as well as more mundane areas such as finance and management. After a blessed time walking the footsteps of Jesus in the Holy Land, Br Paul is pleased to have been appointed as parish priest at St Edmund and St Frideswide Church here in Oxford.
Br Paul enjoys listening to music, especially country music and bluegrass and likes walking. He is a big fan of 'The Lord of the Rings' and other writings of Tolkien, so now he wants to be Gandalf when he grows up. But people sometimes think he's a Jedi!
"Underpinning all the work for the catholic life of the school is the excellent work of the Chaplains. Their 'open door' policy is a key feature of pastoral support and their enthusiasm, approachability and reliability form huge rocks on which the cohesion and strength of the school is founded." (Sec 48 report)